NEWS SNIPPETS
http://www.shipspotters.nl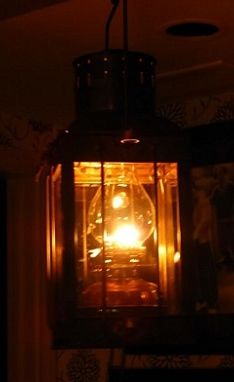 PART 1
USEC ports in deep trouble 5
Tuesday, 11 March 2014
Great changes lie ahead in the trade lane between Europe and the US East Coast/US Gulf, but to what extent will its ports be up to the job, and what are the implications for shippers? Recent clarification of the port rotations of G6's proposed services between Northern Europe and US East Coast/US Gulf from 2Q 14 underlines the great changes that are in the making in the Transatlantic. If all goes according to plan, Hapag-Lloyd, OOCL, NYK, HMM, APL and MOL will offer just three jointly run schedules from 2Q 14. And Maersk, MSC and CMA CGM will provide another three within the P3 alliance, in addition to two between the Mediterranean and USEC/USGC, assuming regulatory approval.
In theory, this means that much larger ships over 8,000 teu could replace the vessels between 3,500 teu and 6,500 teu currently deployed, subject to USEC/USGC ports being able to handle them satisfactorily. It would be a natural progression, as today's ships are already a third larger on average compared to 2006 (see Figure 1). Ocean carriers also desperately need greater economies of scale; few can be making any money, as evidenced by the withdrawal of Zim Line last year, and Hanjin in May this year.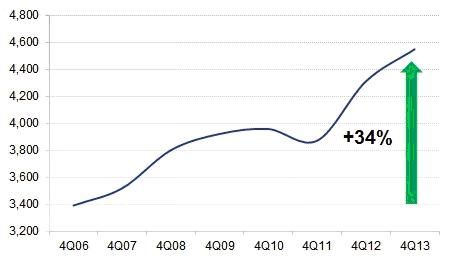 Figure 1
Average Headhaul Vessel Size: North Europe-USEC Trade Route, 2006-13 (teu)
Source: Drewry Maritime Research
The problem is that many USEC/USGC ports have been gearing themselves up for the arrival of deep draught ships over 8,000 teu from the middle of 2015, when the new Panama locks were originally due to open, not 2Q 14.
Tables 1 and 2 show how the G6 and P3 alliances plan to start their respective Transatlantic schedules in 2Q 14, although, interestingly, neither have yet confirmed the size of vessels involved. These include G6 calls in New York/New Jersey, Norfolk, Charleston, Savannah, Port Everglades, New Orleans and Houston, and P3 calls in New York/New Jersey, Boston, Baltimore, Norfolk, Charleston, Savannah, Miami, New Orleans, Mobile and Houston. The P3's Mediterranean services will also call at Port Everglades.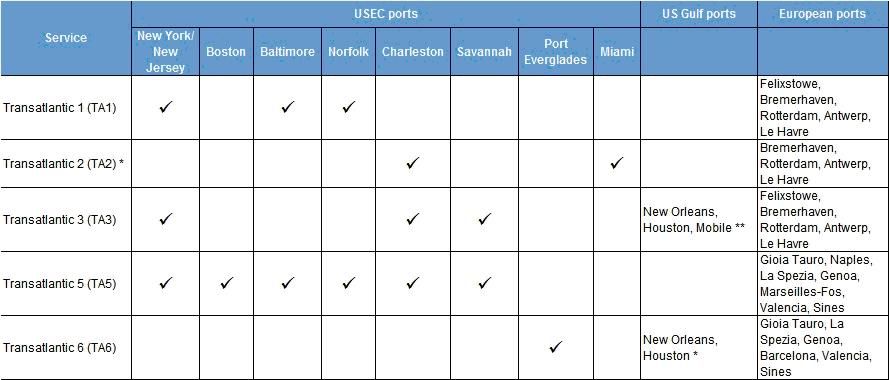 Table 1
Port Calls of Proposed G6 Transatlantic Services
* Also Veracruz and Altamira in Mexico
Note: Two further services linking Asia-USEC-North Europe via Panama are also planned
Source: Hapag-Lloyd

Table 2
Port Calls of Proposed P3 Transatlantic Services
* Also calls Freeport, Altamira and Veracruz
** Also calls Freeport
Source: Maersk Line
The main USEC ports already handle ships of over 9,000 teu on Asian all-water services via Suez. However, inbound cargo tends to consist of relatively low weight consumer goods, and outbound vessels have significant empties aboard, so maximum draught is never reached. On the Transatlantic route, cargoes tend to consist of heavier industrial goods, plus the trade flow is relatively balanced, meaning inbound and outbound vessels can be well laden. Fully laden with heavy cargo, a typical 8,000 teu vessel has a draught of around 14.3 metres (47ft) which, with underkeel clearance, would require channel depth of at least 49ft (14.9m). This brings into focus the status of each USEC port's dredging programme.
As Table 3 shows, Norfolk and Baltimore are sitting pretty with 50ft channel depths already. The Port of New York/New Jersey has also nearly completed its 50ft dredging programme, which incidentally was authorised by the port authority Board way back in 2001 – an indication of the extraordinary long lead in time for such projects. Interestingly though, the original cost estimate for the dredging has reduced from $2.3 billion to a "mere" $1.6 billion. To this has to be added the $1.3 billion cost of raising the Bayonne Bridge (although this is not currently a restriction on 8-9,000 teu vessels accessing the Port Elizabeth terminals but does need to be raised for 13,000 teu New Panamax vessels).
The remaining main USEC ports would face challenges if ships of 8,000 teu were deployed by the G6 and P3 by mid-2014, and were seeking to call fully loaded, as their current channel depths range from 40-45ft (12.2-13.7m). Tide dependent access can ameliorate this to a degree – for example, in Charleston, high water adds approximately 5.5ft (1.7m) to the water depth. Other USEC ports typically have a similar tidal range of around 6ft (2m) but the effect this can have on permissible vessel drafts and tidal windows is complex.
All have channel deepening projects, but at widely varying stages. Miami expects to have its 50ft channel completed by 2015 but Savannah, Charleston, Jacksonville and Port Everglades are at least three years beyond this, and in some cases nearer the end of the decade. In Savannah, the channel deepening project received the last of its federal and state regulatory approvals in 2013 – meaning that after 14 years of study and review, it became ready to move to the construction phase.
Table 3
Current and Planned Channel Depths at Main USEC Ports
Notes: Channel depths shown are at mean low water
Typically at least 2ft (0.6m) underkeel clearance is required by vessels
Deeper vessel draughts can be accommodated within tidal access windows
Source: Drewry Maritime Research derived from port authorities
Clearly a significant step up in Transatlantic vessel sizes will require careful consideration of ports, particularly call rotations and the all-important deepest draught first call inbound, last call outbound choices. As significant for the ports though will be the concentration of volume in fewer services, bigger ships and hence greater volume peaks.
This will increase the pressure on landside operations, something that is already challenging for USEC ports. For example, in Norfolk and Portsmouth (Virginia), truck and rail delays and congestion have been an issue – a result of growing pains from the port's strong overall volume growth and double digit rail growth, not least due to its increased number of "first in" and "last out" port calls. The port authority recently set up a Motor Carrier Task Force to focus on reducing truck turnaround times, cutting wait-time at terminal gates, improving chassis availability and spreading the arrival times for trucks throughout the day through the implementation of an appointment system.
Meanwhile in New York/New Jersey, the influential Retail Industry Leaders Association (RILA) recently sent a strongly worded letter to the port authority urging more action to address landside delivery congestion, backlogs and productivity issues.
Our View
Significantly bigger ships on the Transatlantic route will highlight draught issues at USEC ports, although port call rotations and tidal windows will be key. Perhaps more significantly, bigger ships will increase pressure on already strained landside capacity at key ports.
Source: Drewry Maritime Research
---------------
Shipping issues arising out of the Ukraine crisis 5
Tuesday, 11 March 2014
The situation in Ukraine remains fluid and, with events moving quickly, very little is certain. At the time of writing, attention is focused on the Crimea with rumours of Russian naval vessels blockading the Kerch Straits which, if true, would quickly isolate the main port of Mariupol (see map below). At present, the US and EU appear committed to achieving a non-military solution to the ongoing crisis. Limited sanctions have been introduced by both, aimed at freezing and/or seizing the assets of persons designated under the sanctions for their involvement in undermining the democratic process in Ukraine or misappropriating assets of the State. No-one wants to see any kind of armed escalation, but we can expect a period of uncertainty as Russia decides how it will react.
Ukraine's importance in terms of wheat and corn supplies is significant. It is also a key exporter of metals and minerals to Europe, Russia and beyond. Ukraine ranks as the world's fourth and fifth largest exporter of corn and wheat respectively and it is the world's fifth largest steel exporter. It is also a vital gateway for Russian natural gas to Western Europe, with approximately a fifth of the gas used in Europe flowing across the country. Together with Russia, Ukraine forms the northern coast of the Black Sea, an important shipping route for agricultural products, metals and energy.
The potential disruption for the corn and wheat and gas and steel industries, together with the resulting rise in prices, is causing considerable concern. An escalation of tensions and
CRISIS
any military action may have repercussions for ship-owners, charterers, crews and insurers alike.
We outline below some of the legal issues that the shipping industry may face if the situation in Ukraine escalates.
Charterparties
War Risk clauses
Charterparties often include specific provisions relating to the outbreak of war or warlike situations. Such clauses generally provide that the contract should be cancelled/terminated in the event of war/hostilities/warlike operations breaking out, either between "two or more" of a list of specified nations (often including Russia and "any country in the EC"), or involving the flag state of the vessel.
What constitutes "war" in this context was the subject of an arbitration in 2002 (Northern Pioneer) where limited German participation in the NATO bombing operations in Kosovo led to charterers purporting to terminate charterparties involving German flagged ships. The Tribunal found that the action was not "war" and that, in any event, Germany was not "involved" (in what was a war between Kosovo and Yugoslavia) for the purposes of the clause. The matter found its way to the Court of Appeal ([2002] EWCA Civ 1878) primarily on points of procedure but the Court confirmed that any right to terminate must be exercised within a reasonable time of war breaking out and doing so a month later was too late.
In the context of a war involving only Russia and Ukraine, then any reliance on a similar termination clause will probably be restricted to charterparties involving vessels flagged in those countries. Whether military intervention by the EU (or individual countries) or the US would be enough to widen the effect of the clause to allow a more general right of termination is likely to turn on the degree of their involvement.
In order for war risk clauses to be relied upon, it is generally not necessary for war to be formally declared. Whether a state of war (including "hostilities/warlike operations") exists for the purposes of these clauses will be a question of fact. The meaning of "hostilities/warlike operations" is, of course, wider in scope than "war".
One other key question for owners will be whether they have to go there. As we saw during the height of the piracy problem, issues may arise over the right to refuse orders to Ukraine. In the wake of the Triton Lark ([2012] EWHC 70), BIMCO reissued the War Risks Clause (Conwartime and Conwarvoy 2013) and whilst that case was focused on the piracy threat off Africa, deterioration of the situation in Ukraine may see an early test of the principles set out by the Court in the consideration of whether a vessel is exposed to War Risks and whether those War Risks "...may be dangerous or may become dangerous to the vessel, cargo or crew".
In this context, War Risks include:
"...act of war, civil war or hostilities; ...warlike operations; ... blockades (whether imposed against all vessels or imposed selectively against vessels of certain flags or ownership...) by any person... or the government of any state..."
What is "dangerous" will depend on the facts and will depend on both quantitative factors (the degree of likelihood that a particular peril may occur) and qualitative factors (the seriousness or otherwise of the consequences of that peril to the vessel). Issues may arise therefore as to whether an owner or master can refuse to go to an area where a War Risk exists and, because of that peril, will be dangerous at the time the vessel arrives there. The Conwartime clause expressly provides that a vessel does not have to pass through a blockade.
It should also be noted that whilst some war risks clauses will operate to exclude the charterers' safe port warranty, others will not. Furthermore, unless the off-hire clause in the charterparty expressly provides otherwise, hire will generally continue to run during any periods of delay associated with war risks.
When a war risks clause is invoked and discharge occurs at an alternative port to the one originally nominated, whether the owners will be entitled to additional freight will depend on whether or not the substitute port is within the range specified in the charter. If it is, then freight may be paid as per the charterparty but, if it is not, then the charterers may be obliged to pay all of the additional costs associated with proceeding to and discharging at the alternative port.
Port safety
Charterparties may contain either express or implied safe port warranties. It is well established in law that a port will be safe where, at the relevant time, the vessel can reach it, use it and leave it without, in the absence of some abnormal occurrence, being exposed to danger which cannot be avoided by good navigation and seamanship. The time for assessing the safety of the port is the time at which the charterer nominates the port (i.e. it must be "prospectively" safe). Safety means both physical safety and political safety. A port may, therefore, be unsafe if there is a risk of seizure or attack, or if the vessel may be detained, impounded, blacklisted or confiscated.
The question of whether a blockade to Ukrainian ports by the Russian naval forces during a vessel's call would amount to an "abnormal occurrence" for the purposes of a safe port warranty is complicated. Following the House of Lords decision in The Evia (No.2)[1983] 1 AC 736, the test for an "abnormal occurrence" in these circumstances would be one of foreseeability. An event can be abnormal but foreseeable. The deemed foreseeability or otherwise of any blockade would be key to the question of whether or not damages might be available to ship-owners for breaches of charterers' safe port warranties.
Where charterers nominate an unsafe port, owners are entitled to reject that nomination on the basis that it is invalid. In the event that a valid nomination is made but, prior to the arrival of the vessel the port becomes unsafe, a time charterer will be obliged to nominate a new port. Under a voyage charter, the position is less clear and, unless the charterparty specifically provides for it, the charterer may not be able to change its nomination without the express consent of the owner. That is why voyage charters will often provide for a vessel to proceed to the nominated port "...or so near thereto as she may safely get...". Considerations as to whether a charterparty is frustrated may arise if a vessel cannot get close to the nominated port at all.
Frustration
If the situation escalates, or if the Russian naval forces do blockade Ukrainian ports and prevent commercial vessels from entering or leaving, ship-owners and/or charterers might seek to argue that their charterparty is frustrated on the basis that the vessel is unable to navigate to Ukrainian ports. It must be noted, though, that frustration is difficult to argue successfully under English law. It would require the party claiming frustration to show that the event relied on had fundamentally changed the performance obligations originally contemplated by the parties and had made further performance under the charterparty impossible, illegal or radically different from that which was originally contemplated by the parties.
Whether there is frustration will depend on the nature of the charterparty and the length of the delay caused. Those entering into charterparties that might be affected by blockades of Ukrainian ports should consider incorporating terms that allocate the risks associated with such occurrence e.g. for delays, extra expenses etc.
The fact that contractual obligations become more onerous or expensive to perform is unlikely in itself to frustrate the contract. So if, for example, access to Crimean ports were blocked for a period of time otherwise sufficient to frustrate the charterparty, the charterparty may not be frustrated if another route would be available, i.e. delivery to another Ukrainian port which is not blocked and onward transportation by road/rail to the original destination port.
Deviation
Charterparties should be reviewed to see whether they allow deviation to a different port although, absent an express provision, the ship-owner/master has an implied right to deviate to avoid danger to the vessel, cargo and those on board. Parties may wish to vary their charterparties to allow for discharge at other Ukrainian ports, or even ports outside Ukraine. Conwartime for example, expressly provides for this.
Bills of lading
If it has been agreed that cargo is to be delivered at an alternative port, owners and carriers should be aware of the potential problems posed by an issued bill of lading which names a specific discharge port. It may be that a bill of lading incorporates the terms of the charterparty, or permits discharge at a port other than the one named on the bill. If no such provision exists, however, delivery to an alternative port may constitute a breach of the bill of lading contract. The parties should also bear in mind that even where a bill of lading appears to incorporate the charterparty provisions, proceedings might be commenced in a jurisdiction in which different principles may apply.
Obligation to pay for and arrange insurance
In the absence of express provisions to the contrary, responsibility for, and the costs associated with, insuring the vessel will fall upon owners rather than charterers. Should charterers wish to order the vessel to, or through, an area of heightened war risk, the vessel's insurers may require the payment of additional premiums to compensate for the additional risk. In these circumstances, the issue will arise as to who is responsible for any additional premium and it will depend on the charterparty provisions whether the charterers are to reimburse the owners for any additional premium paid.
Comment
The situation in Ukraine remains in a "watch and see" phase. There is a lot of tension but seemingly a willingness on all sides to resolve things diplomatically. It is to be hoped that that resolve holds good. However, the introduction of sanctions by both the US and EU could give rise to a tit for tat escalation that may yet impact on commercial shipping even if both sides avoid any kind of military action. If military action does happen, then that is likely to be considered as a war or warlike situation with repercussions for the various stakeholders involved in any charterparty or contract of carriage.
Source: Ince & Co.
---------------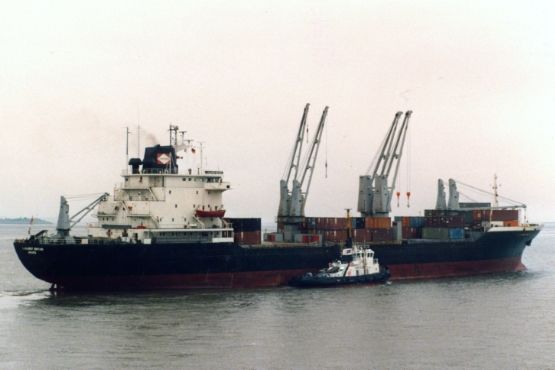 L. JALABERT BONTANG
Oil tanker orderbook hits a level unseen in more than 10 years
Tuesday, 11 March 2014
After years of over-purchases amid high rates, orderbooks (the order backlog) for tankers, Suezmax and Aframax class vessels, have fallen to levels unseen in more than a decade. Since it can take up to three to four years to construct a vessel, the tanker industry will see low supply growth over the next year or two. This will create a window of opportunity for higher rates ahead as fleet utilization tightens.
Suezmax orderbook as a percent of fleet is near 10%, while the ratio for Aframax is slightly higher, according to DryShips Inc. It's important to note that when looking at orderbook, it's best to look at the aggregate rather than one specific class, because tanker sizes are substitutable. If rates for a large vessel class such as VLCC rise substantially, they can pull rates for smaller vessels up.
Managers' sentiment improves
The direction of the orderbook level is another important figure to look at because it reflects companies' expectation of future rates and industry profitability. If rates are expected to improve or if newbuild (new vessel) prices are attractive, companies will place orders for new vessels. If rates are expected to rise substantially, orders will climb. But when rates are expected to fall, orderbooks will fall as companies refrain from ordering new vessels while existing orders get delivered. In a sense, the orderbook is managers' sentiment index.
Navios Maritime Acquisition Corp.'s (NNA) latest earnings presentation's orderbook for VLCCs (very large crude carriers) showed that managers have been pretty optimistic, placing as much as 16.1 million deadweight capacity throughout 2013, reversing past the few years of downtrend: 9.3 million in deadweight was ordered in 2010, 8.9 million in 2011, and 6.9 million in 2012. Current orderbook remains ~12% of existing capacity, which is pretty manageable, considering it has historically been around 20%.
For those who have followed us from last year, overall orderbooks for tankers based on IHS Global's data started to turn up in December 2013, and are now in an upswing, reflecting managers' optimism at companies like Frontline Ltd. (FRO), Nordic American Tanker Ltd. (NAT), Teekay Tankers Ltd. (TNK), and Tsakos Energy Navigation Ltd. (TNP).
Source: Market Realist
---------------
Prospects bloom for widespread use of electronic bills of lading
Tuesday, 11 March 2014
Earlier this year, a number of major dry cargo charterers began inviting owners to incorporate clauses into time charters to permit the use of electronic bills of lading in place of their paper equivalent. The International Group of P&I Clubs has endorsed two electronic bill of lading solution providers – essDOCS and Bolero. This effectively means that if an owner uses one of these systems, they will have the same level of P&I cover as they would with a paper bill of lading. Both systems work by providing a combination of a rulebook that creates a legal framework and technology that replicates the functions of a traditional paper bill of lading. Neither essDOCS nor Bolero charges ship owners to register as users – transaction charges are borne by the charterers. For users of these systems the experience is not radically different to online banking, which has become commonplace in business.
BIMCO has always been a firm supporter of electronic bills of lading solutions. After many years of development the industry may now be on the cusp of a broader uptake of systems which will help reduce fraud, speed up the documentation process and, notably, reduce reliance by ship owners on letters of indemnity given in exchange for delivery of cargo without presentation of the original bills of lading.
At a recent meeting in London, several major dry cargo charterers met with representatives of ship owners, P&I Clubs and electronic bill of lading solution providers to develop an eBill charter party clause. After careful consideration of the key issues, the group has prepared a simple and straightforward clause that acknowledges that electronic bills of lading may be used and treated identically to paper bills provided that whatever system is used is one that has been approved by the International Group of P&I Clubs and is listed in their Electronic (Paperless) Trading Systems circular. At present, the only approved systems are those provided by Bolero and essDOCS.
The new clause will be considered by BIMCO's Documentary Committee at its meeting in Dubai at the end of April and, if approved, will be published in May.
Source: BIMCO
---------------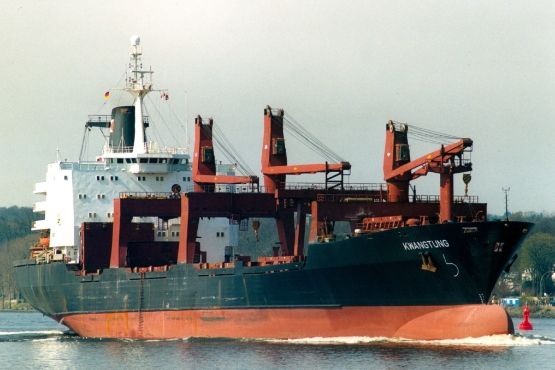 KWANTUNG
Dry bulk vessels still the "cream of the crop" for ship owners 2
Wednesday, 12 March 2014
Dry bulk carriers have remained the most popular vessel type among ship owners as proven by the sheer number of second hand vessel sales and newbuilding ordering activity reported over the past week. With the Baltic Dry Index (BDI) on a recovery mode (now well over the 1,500-point mark), this trend is only going to intensify in the coming weeks, especially given the fact that financing options are increasing, with the rise of private equity funds and investors, looking to exploit the looming upward cycle of the shipping market.
According to the latest weekly newbuilding report provided to Hellenic Shipping News Worldwide (
http://www.hellenicshippingnews.com
) from shipbroker Clarkson Hellas, there was "a significant volume of ordering to report across the dry sector. "Jiangsu Eastern has announced an order for four firm plus four option 208,000 DWT Newcastlemax. As of yet, the buyer is unknown, however delivery is due from the middle of 2016 onwards. Although understood to have been concluded some time ago, it has come to light this week that NACKS has taken an order for two firm 209k Newcastlemax from RGL Shipping, with delivery of both vessels in the second half of 2016. Also at Jiangsu Eastern, Oldendorff has added an additional 97,000 DWT post-panamax bulker. This takes the total order to two, with delivery of the most recent vessel in mid-2015. Also this week, clients of Paragon Shipping announced an order for three firm 81,800 DWT Kamsarmax at Jiangsu New Yangzijiang. The order is understood to include a number of options, with delivery of the firm vessels from the second quarter of 2015".
Clarkson Hellas also noted "a significant order at Sainty Marine, with Precious Shipping announcing a total of 10 x 64,000 DWT Ultramax, due for delivery from the second quarter of 2015 onwards. At Hantong, Spar Shipping have declared a further four options for 64,000 DWT Ultramax. The latest vessels are due to deliver in 2015/2016 and takes the total series to six vessels. Portline S.A. have placed an order for three 61,000 DWT Ultramax at NACKS/DACKS, with delivery in 2016. A number of options declared by D'Amico, with the addition of two of each 39,500 DWT Handymax and 64,000 DWT Ultramax at Zhejiang Yangfan, due for delivery from 2016 onwards. Lastly in dry, Uni-Asia Finance Corp announced the addition of the fourth vessel to a series of 37,000 DWT Handysize at Imabari, with the latest due to deliver in the second quarter of 2015", said the shipbroker.
It concluded by noting that "the other markets have been relatively quiet this week; One order to report in Gas, with Kumiai Senpaku understood to have ordered a single 84,000 CBM LPG carrier at HHI, with delivery in the final quarter of 2016. In other sectors, United European Car Carriers (UECC) announced an order for two 3,800 unit PCCs at NACKS. Both vessels are planned for delivery in the second half of 2016", Clarkson Hellas said.
In a separate report on the secondhand market, Lion Shipbrokers said this week that the market benefited from the improved sentiment which prevailed in the dry bulk market. Lion noted the following deals: "Cido's panamax TOP GLORY (76K BLT 2005 TSUNEISHI/JAPAN) has achieved a price of $22.8 mill from clients of Target Marine of Greece, same level with the sale of her sister TOP ETERNITY two weeks ago (also sold to Greeks). It is rumoured that Chinese controlled modern panamax SEACON 9 (74K BLT 2012 NINGBO/CHINA) have been snapped by Greeks for $22 mill, however others suggest that the sale has fallen through. In an off-market deal, Japanese controlled supramax WHITE HALO (55K BLT 2012 IHI/JAPAN CR 4X30T) was committed to Greek interests for $30 mill, one million more than mid February's sale of JIN ZE (57K BLT 2012 TSUNEISHI/JAPAN CR 4X30T) gone for $29 mill. Late 90's vintage handymax CRYSTAL OCEAN (49K BLT 1999 IHI/JAPAN CR 4X30T) attracted $14 mill, while one month ago her exact sister EILHARD SCHULTE was sold for $12.75 mill. Modern handy B HANDY (36K BLT 2011 HYUNDAI/S.KOREA CR 4X30.5T) changed hands for $22.5 mill. Prompt Dolphin 36 design resale MYSTIC TREASURE (35K BLT 2014 QINSHAN/CHINA CR 4X30T), which was originally contracted by Wilmar, was sold to clients of Loadline of Greece for $23.5 mill. South Korean buyers are reported to have purchased Oldendorff's handy CATHRIN OLDENDORFF (31K BLT 2003 SAIKI/JAPAN CR 4X30T) for $15 mill, while smaller mid 90's unit BAVARIAN TRADER (23K BLT 1995 MITSUBISHI/JAPAN 5HO/5HA CR 3X30T) has commanded a solid price of $6.2 million", the shipbroker concluded.
Nikos Roussanoglou, Hellenic Shipping News Worldwide
---------------
Owners Liability For In-Transit Loss Does Not Extend To Loss Caused By Piracy 2
Wednesday, 12 March 2014
In the recent case of Trafigura Beheer BV v Navigazione Montanari Spa [2014], the Commercial Court considered whether a charterparty clause making Owners liable for in-transit loss covered loss where the cargo was stolen by pirates. This case involved a claim by Charterers against Owners for "in-transit loss" of part of a cargo of premium motor oil. The voyage in question was from Abidjan to Lagos.
Facts
The Master tendered NOR at Lagos and was instructed by Charterers to proceed to a position South-West of the port. Whilst awaiting further orders, the vessel was attacked by 15 armed pirates who took control of the vessel and arranged for a ship-to-ship transfer of approximately 5,300MT of the cargo (Transferred Cargo). Having removed the Transferred Cargo, the pirates released the vessel.
The charterparty contained an in-transit loss clause (ITL Clause) which stated that Owners would be responsible for the full amount of any in-transit loss exceeding 0.5%. The charterparty defined in-transit loss as "the difference between net vessel volumes after loading at the loading port and before unloading at the discharge port."
The charterparty also contained an exceptions clause (Exceptions Clause) which stated that "Owners shall be entitled to the protection of [Articles III, IV, and VIII of the Hague-Visby rules] in respect of any claim made hereunder."
Article IV of the Hague-Visby rules provides that:
"Neither the carrier nor the ship shall be responsible for loss or damage arising or resulting from ... (c) Perils, dangers and accidents of the sea or other navigable waters ... (f) Act of public enemies ... (q) Any other cause arising without actual fault or privity of the carrier, or without fault or neglect of the agents or servants of the carrier."
Whereas the Exceptions Clause was a standard-form clause, the ITL Clause had been specifically negotiated between Owners and Charterers.
Charterers claimed damages of USD 5 million from Owners for the lost cargo. The Court was asked to determine two preliminary issues:
whether the pirates' removal of the Transferred Cargo constituted "in-transit loss" under the ITL Clause, and
if the answer to (a) was yes, whether the ITL Clause imposed a strict liability on Owners or whether the Exceptions Clause applied to exclude that liability
Charterers argued that because there was a clear and obvious difference between the net vessel volume after loading and the net vessel volume before unloading at the discharge port, there had been in-transit loss under the ITL Clause for which Owners should be responsible.
Owners responded that in-transit loss in an ITL Clause of this nature only covered loss occurring as a direct result of the transit, and for reasons internal to the transit, during the course of a routine, ordinary voyage.
Decision
The Court held that the ITL Clause did not provide an exhaustive definition of what constituted in-transit loss but merely defined how the amount of any in-transit loss was to be determined. The Court acknowledged that this created uncertainty. However, as the ITL Clause did not specify the types of loss covered by the phrase "in-transit loss", the Court would give the expression its natural business meaning, which was loss incidental to the carriage of oil products (for example short delivery caused by quantity calculation errors, remnants of cargo left on board or loss through evaporation) rather than any loss that arose because of the actions of pirates.
The Court acknowledged that it would be difficult in certain cases to ascertain whether particular losses fell within the expression "in-transit loss" but maintained that loss from the pirates' activities was plainly not covered by the expression.
As the Court found in favour of Owners on the first preliminary issue, the second issue did not arise. However, as an aside, the Court said that there was no real conflict between the ITL Clause and the Exceptions Clause. The Exceptions Clause provided that Owners were entitled to the protection of Article IV of the Hague-Visby rules "in respect of any claim made" under the charterparty and that, despite the clear wording of the specifically negotiated ITL Clause, there was no good reason to limit the natural meaning of "any claim" by excluding claims under the ITL Clause.
Comment
A literal reading of the ITL Clause, specifically negotiated between Owners and Charterers and not simply a standard clause like the Exceptions Clause, would appear to favour Charterers' position that cargo removed by pirates was "in-transit loss". However, the Court took a commercial and pragmatic approach to the definition of the phrase, holding that it should be given its ordinary, natural business meaning so as to extend only to losses incidental to the activity of the carriage of the cargo on a routine voyage. This would not sensibly include loss at the hands of pirates whose actions, it is submitted, have never been understood by the market as amounting to an "in-transit loss" within the meaning of clauses such as the ITL Clause.
The decision confirms the Court's determination to approach the interpretation of commercial clauses such as the ITL Clause consistently with how they are generally understood in the market, in this case the oil sector. That said, given the Court's recognition that the ITL Clause gave rise to potential uncertainty, what does and does not fall within the natural business meaning of "in-transit loss" in other circumstances may not always be so straightforward to determine.
-
Source: Clyde & Co
------------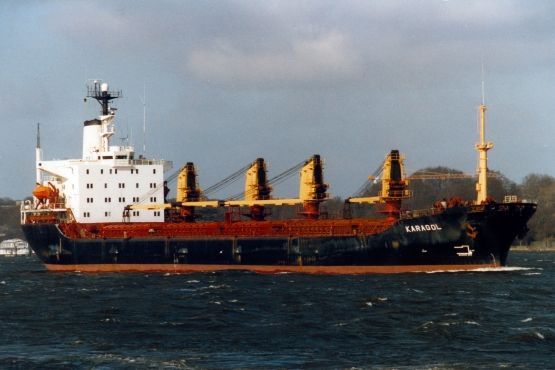 KARAGOL
ISS: Fewer pirates, different risks - Africa needs to rethink its approach to maritime security
Wednesday, 12 March 2014
With incidents of maritime piracy declining and greater awareness of new maritime security threats, the shape and governance of various counter-piracy initiatives and institutions will come into question this year.
These typically draw on a narrow definition of maritime security, which emphasises counter-piracy and the repression of armed robbery at sea.
However, a critical transition is underway whereby the notion of maritime insecurity is being redefined. Security infrastructure and institutions such as the Djibouti Code of Conduct also need to adapt to this expanded definition. In order to fully protect the African maritime domain, other destabilising issues that cause harm to human security are now being reconsidered. These include illegal, unreported and unregulated fishing; human trafficking; the smuggling of narcotics; and circumventing sanctions through the shipment of contraband goods and weapons. To combat and overcome these challenges requires a cooperative and, ultimately, an integrated approach.
This expanded notion of maritime insecurity is reflected in the 2050 African Integrated Maritime Strategy (2050 AIMS), which was adopted at the 22nd Annual African Union (AU) Summit in January. The strategy provides member states with many ambitious goals, and signatories and stakeholders now have a vision to work towards – such as establishing a Blue Economy in African waters before 2050. However, it also presents a complex challenge: how should they respond to both the apparent decline of African piracy and the emergence of new threats, while at the same time striving to achieve long-term maritime goals, and this in a context where piracy has been the main, sometimes only, concern?
Elsewhere in Africa, the various issues and threats affecting the African maritime domain are already being revised. A code of conduct similar to the Djibouti Code was signed in Yaoundé in June 2013 between the Economic Community of Central African States (ECCAS) and the Economic Community of West African States (ECOWAS). It is notable for expanding its definition of maritime security to include more than just piracy. So, where does this leave the Djibouti Code and counter-piracy efforts?
The Djibouti Code risks becoming a multilateral counter-piracy instrument that actually has few pirates to fight or incidents to share. In response, signatory states are currently preparing for a May 2014 ministerial review to expand its scope, while also creating a new member state owned or steered governing structure. The International Maritime Organisation (IMO) has now held two sub-regional meetings – in Mombasa in December 2013, and Djibouti in February – where these issues were discussed.
The code, which was signed in Djibouti in 2009 between African and Asian states bordering the West Indian Ocean, is one of the most extensive transnational efforts for combatting piracy and armed robbery at sea. It has since been signed by 20 of 21 eligible states and is steered by the IMO's Project Implementation Unit.
As signatories, states are expected to review their legislation, support capacity-building efforts and share information on piracy. It is a very technical code as it also encourages members to focus on training, reviewing and harmonising piracy legislation, trust building and creating infrastructure that enables information sharing.
The Djibouti Code remains non-binding, which has proved crucial for wide adoption by eligible states. However, it is important that signatories realise its enormous potential for improving maritime security – especially given concerns over the maritime environment and maritime-based transnational crimes such as illegal, unreported and unregulated fishing, arms smuggling and human trafficking.
To combat these threats and efficiently utilise current infrastructure – such as the information-sharing centres in Mombasa, Dar es Salaam and Yemen – requires a revision of the Djibouti Code, possibly drawing on ideas found in the ECCAS-ECOWAS code. It is questionable whether such revisions are in fact possible as member states were initially drawn together to counter piracy and armed robbery; an issue that was agreed to pose an international problem and which made cooperation necessary.
In addition, the code remains vulnerable to competing regionalist interests and contexts. The Djibouti Code comprises African states from five regional economic communities (RECs), as well as Asian states. Drawn together around a common and international threat, they otherwise lack a history of sustained political cooperation or a security culture.
Arguably, if the Djibouti Code does not also move in a similar direction for an expanded concept of maritime security, it risks becoming obsolete or irrelevant. However, from an African, regional and security studies standpoint, the Djibouti Code represents a laudable starting point upon which to build future maritime security capacity.
African maritime stakeholders now need to collaborate and contribute towards the successful implementation of the 2050 AIMS, as well as become involved in both creating and implementing national and regional integrated maritime strategies. There are crucial lessons to be learnt from the process, as successful implementation depends on well-established information-sharing networks, which in turn should be underpinned by trust, technological compatibility and reciprocity.
East African RECs sorely lack an integrated maritime strategy similar to that of ECCAS, ECOWAS and SADC. As many members of the various RECs – such as the Common Market for Eastern and Southern Africa (COMESA); the East African Community (EAC); and the Intergovernmental Authority on Development (IGAD) – are also signatories to the Djibouti Code, it is likely that continued participation and implementation could enhance cooperation and integration in other sectors of the African maritime domain.
The future shape of the Djibouti Code should be monitored closely. It will prove indicative of how all stakeholders intend to respond to emerging concerns over the governance of the African maritime domain.
Written by Timothy Walker, Researcher, Conflict Management and Peacebuilding Division, ISS Pretoria
Source: Institute for Security Studies Africa (ISS Africa)
---------------
Jones Act Carriers Agree to $3.4 Million Settlement Over Price Fixing Claims
BY MIKE SCHULER ON MARCH 11, 2014
Jones Act shipping companies Sea Star Line and Horizon Lines have agreed to pay a combine $3.4 million to settle claims over their involvement in a price fixing scheme related to government transportation contracts.
Under the settlement agreements, Sea Star Line has agreed to pay $1.9 million, and Horizon Lines has agreed to pay $1.5 million, according to the Department of Justice.
The civil settlements resolve allegations made in a lawsuit filed in federal court in Jacksonville, Florida, alleging that the shipping companies had violated the False Claims Act by fixing the price of government cargo transportation contracts between the continental United States and Puerto Rico.
"Today's civil settlements demonstrate our continuing vigilance to ensure that those doing business with the government do not engage in anticompetitive conduct," said Assistant Attorney General for the Justice Department's Civil Division Stuart F. Delery. "Government contractors who seek to profit at the expense of taxpayers will face serious consequences."
A statement from the DOJ explains the allegations:
The government alleged that former executives of the defendant ocean shippers used personal email accounts to communicate confidential bidding information, thereby enabling each of the shippers to know the transportation rates that its competitor intended to submit to federal agencies for specific routes. This information allowed the shippers to allocate specific routes between themselves at predetermined rates. Among the contracts affected were U.S. Postal Service contracts to transport mail and Department of Agriculture contracts to ship food. Both Sea Star Line and Horizon Lines previously pleaded guilty, in related criminal proceedings, to anticompetitive conduct in violation of the Sherman Act.
The lawsuit, which was filed by former Sea Star Line executive William B. Stalling, was filed under the qui tam, or whistleblower, provisions of the False Claims Act, which permit private individuals to sue on behalf of the government for false claims and to share in any recovery.
The Act also allows the government to intervene and take over the action, as it did in this case. Stallings will receive $512,719 of the recovered funds.
--------------