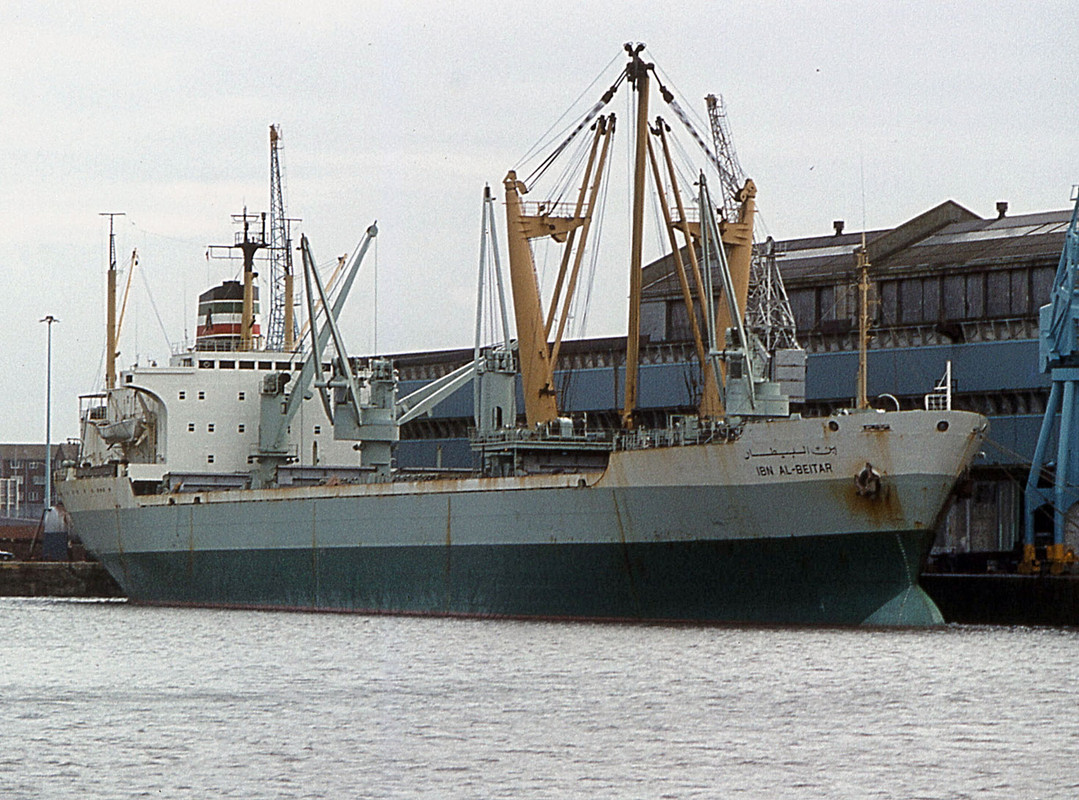 IBN AL-BEITAR.
IMO; 7429011.
Flag/PoR; Ira/Basrah.
Built; 1977 Hyundai Shipbuilding & Heavy Industries Ltd. Ulsan. 2323 South Korea.
15,122 gt. 23,613 dwt. Loa- 175.32m. Beam-23.98m. Draught-10.402m. Teus- 386.
Engines; 1x B&W Motor- 12,500 hp. Harland & Wollf Ltd. Belfast. N Ireland. UK. 16 knots.
Names; IBN AL-BEITAR-1977>86;
Fate; LOST <> 1986. PERSIAN GULF <> BANDAR KHOMEINI.
Date & Location; 20th March 1983 <> Liverpool, England, UK.
Additional Information;
"IBN AL-BEITAR" (Ira/Basrah) UNITED Arab Shipping Co. (S.A.G.) Safat, Kuwait.
Owners; UASCO.
(Call Sign HNNB)
1977<>1983 Trading where required, world wide
20th March 1983 berthed, loading at Liverpool. (Observation)
1983 <>1985 Trading where required, world wide
12th October 1985 left Yokohama for Dammam. (LSI 02-1987) NOW Kuwait flagged (Call Sign 9KEX) (Official Number KT1489)
24th November 1985 seized by Iranian naval forces in the Gulf of Oman.
13th April 1986 confiscated by Iran on the grounds that she was owned by Iraq. (
23rd December 1986 while being sailed by an Iranian crew she was attacked, holed and set on fire by Iraqi missiles. She made her way to Bandar Khomeini.
31st December 1986 sank off Bandar Khomeini.
E&OE; This is not a complete history, just my own notes. David Williams. ©
Niko,
I hope this was worth the wait.
Dave.